Bottles condition
Levels
When the level of wine in the bottle is not perfect, we will show you this. There is a distinction between Bordeaux wines and other than the « Bordeaux » shaped bottle:


For Bordeaux wines (and Bordeaux shaped bottles) see the following drawing: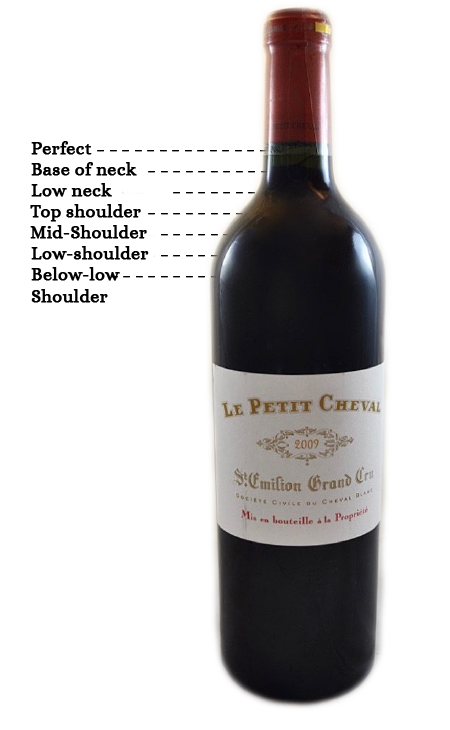 For all bottles other than the « Bordeaux » shaped bottle (i.e. : Burgundy, Rhone, Alsace, Champagne), the level of the wine is measured in centimetres from the bottom of the cork :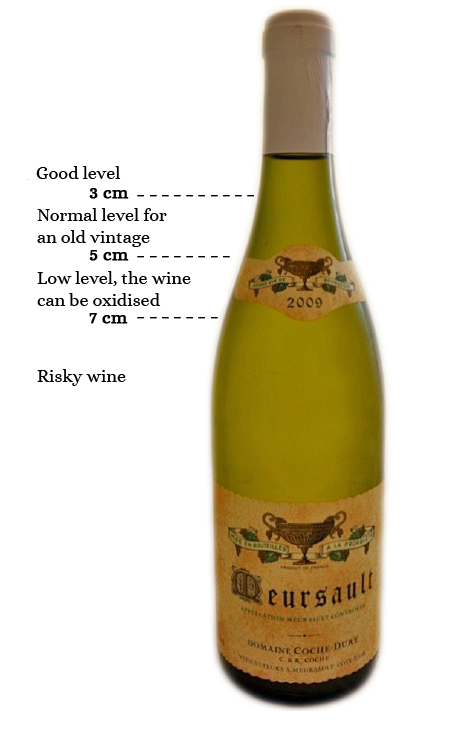 It is not unusual that the state of some old bottles has changed over the years. Corks are not fully sealed ; therefore, the level of the wine drops slowly in the bottle. Two factors can exacerbate this phenomenon : the cellar is too dry and / or the cork is too porous.
As for the capsule, this may, in some cases, have been damaged. It is very rare that this has an impact on the quality of wines ; this can sometimes increase the risk of evaporation and / or flow.
IMPORTANT : The condition of the bottles (labels and levels) is specified on each product ; each bottle is photographed : if more products are available in stock, photo shows the most degraded bottle ; if the state of 2 identical bottles is too different, two product pages will be created (same thing for 3/4/5...).
* If you want additional photos, do not hesitate to ask us at the following email address : contact@special-wine.com
Labels / capacity
e.l.a : lightly damaged
e.a : damaged
e.t.a : heavily damaged
e.l.s : lightly dirty
e.s : dirty
e.f : faded
e.l.t : lightly stained
e.t : stained
e.t.h : trace moisture
e.q.i : tattered
s.e : no label
Imp : imperiale (6 litres ; Bordeaux)
Mat : mathusalem (6 litres ; Bourgogne)
Jéro : jéroboam (5 litres ; Bordeaux)
Jéro : jéroboam (3 litres ; Bourgogne, Champagne)
Dmg : double magnum (3 litres ; Bordeaux)
Mag : magnum (1,5 litre)